The Texas Elders is a part of the South Central Region of the Mankind Project. There are over 10000 men in Texas and Louisiana who have gone through the New Warrior Adventure Training Weekend over that last 23 years. The MKP Elder community host events for men in the community as well as all other men who are interested in learning growing and connecting with other men.
OUR COMMUNITY VISION
We create a conscious world by building a vibrant, welcoming elder community through authentic intimate conversations and learning, while growing spirituality.
SATURDAY MORNING MENS CAFE


Where Conversations Matter
We invite you to join us on a journey of discovery in the ancient wisdom tradition of growing as a man. It's free. Just show up to learn, reconnect with, and make new friends.  All men are welcome. The Elder community of The Mankind Project is hosting this series of experiential topics of interest to all men on the 2nd Saturday of the month. Men in our community will facilitate topics of their choosing that will support other men's growth.Plan to attend the Fall Gathering of Men in Fall 2019.
The meeting is held the 2nd Saturday of each month from 930-1130. We will meet at The Council on Recovery located at 303 Jackson Hill St. Room B167. Houston, Texas.  Learn about our NEXT EVENT.
ANNUAL FALL GATHERING OF MEN- NOVEMBER 8,9,10 2019
This year we will have Felix Scardino as our speaker.
Felix Scardino is a Licensed Clinical Social Worker who lives and practices in Houston, Texas. As a psychotherapist, he has counseled individuals, couples and families for over 45 years.
Scardino presents workshops and seminars on personal growth, family life and stress management. His book, The Pebble and the Canyon, grew out of his course, Images—A Course to Enhance Your Creativity. For 30 years, he was the psychotherapist for patients of the Stehlin Foundation for Cancer Research at St. Joseph Hospital. While there, he was also co-investigator in research studying the effects of relaxation and of mental imagery on the immune system.
MORE TO COME ABOUT FALL GATHERING THIS YEAR.
ANNUAL FALL GATHERING OF MEN-2018



November 9, 10, 11, 2018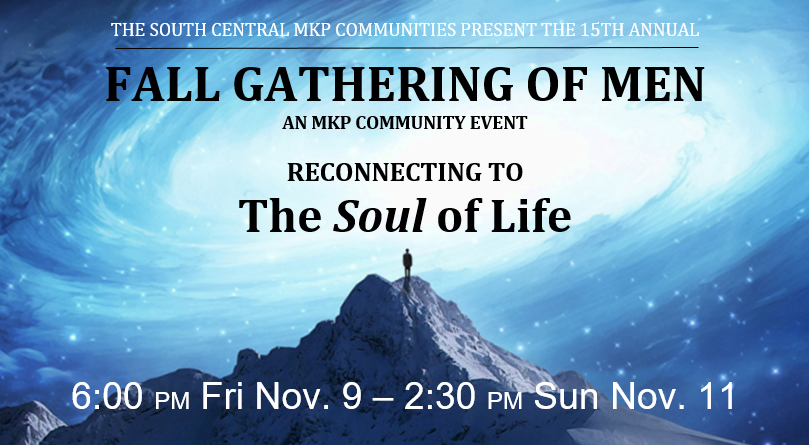 For the last 15 years the MKP Elders have hosted a Fall Gathering Weekend at theLand of My Grandfathers retreat center in North Zulch Texas. Speakers have been thought leaders in spirituality and psychology and Men's studies.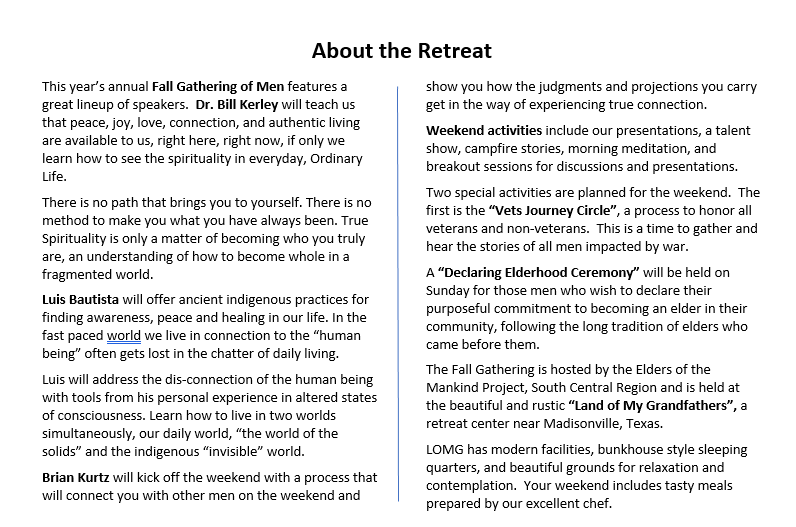 WHAT YOU MIGHT EXPERIENCE
Friday: Brian Kurtz – special presentation
Saturday: Keynote presentation by Bill Kerley
Talent show, camp re, songs and stories
Sunday: Luis Bautista
WHAT TO BRING
An attitude of openness, understanding and learning.
Guitars, drums bedding/sleeping bag, flashlight and camp chair.
WHAT YOU MIGHT TAKE WITH YOU
A sense of peace, serenity, and connection to other men.